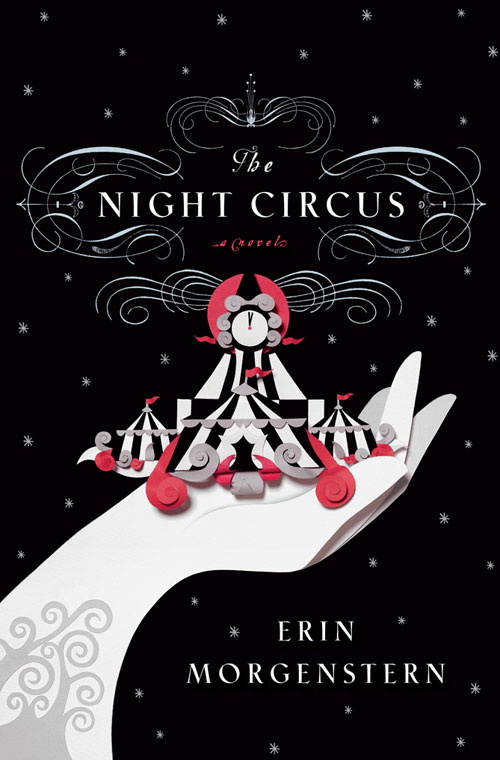 The Night Circus, by Erin Morgenstern, is a magical first novel. The author's imagination is matched only by her ability to capture it on paper.
The book spans the years 1873-1936 and centers on the Cirque des Reves--a "Circus of Dreams" that opens at nightfall and closes at dawn. It travels via rail all over Europe, but appears without notice and disappears just as suddenly. The Cirque des Reves features trapeze artists, animal acts, fortune tellers, contortionists, and fantastic holograms. The acts are breathtaking and spectacular.
Yet the beauty of the circus is matched by the empathetic characters and the ingenious plot. The Cirque des Reves revolves around two figures, Celia and Marco, who are competitors in a game of skill and endurance. Each is trying to exceed the other in magical feats. The circus provides the venue for this. Celia's father and Marco's guardian have been training them in the art of magic since they were children, making them pawns in the power struggle of their elders. Echoes of Dickens resonate as we witness examples of childhood exploitation and physical and emotional abuse.
Still, the children grow into healthy adults, albeit lonely ones. It is not surprising that they are strongly attracted to one another from a young age, not knowing until much later that they are rivals. "Our instructors do not understand how it is," comments one of the characters. " To be bound to someone in such a way. They are too old, too out of touch with their emotions. They no longer remember what it is to live and breathe within the world. They think it simple to pit any two people against each other. It is never simple (p. 344)."
In many ways, the book is a 400 page fairy tale for adults. It uses romance as a binding thread, interweaving complicated characters and breath-taking performances.
If you are a lover of fantasy, romance, or imaginative prose, this book is a must-read. It would also be enjoyed by the high school and college set, and by anyone who loved Harry Potter, Twilight, and The Hunger Games. Already, the movie rights have been sold.
---