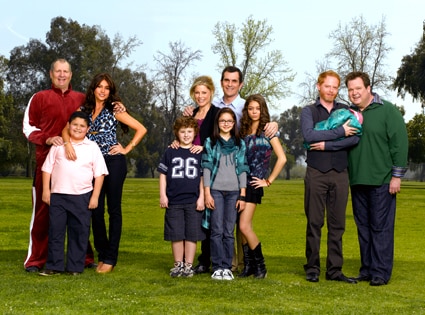 If you were a fan of Leave It to Beaver, Father Knows Best, The Andy Griffith Show, or The Dick Van Dyke Show, and are currently watching them on re-runs, check out Modern Family. Watching it makes one realize how times have changed from the era of the 50's and 60's both in acceptance of diversity and in child-rearing styles.
Jay Pritchett (Ed O'Neill) is the patriarch of the family. Now divorced, he is married to the much younger, and very beautiful Colombian woman, Gloria (Sofia Vergara). She brings into the marriage a very precocious son, Manny (Rico Rodriguez), whose insights and adult manner endear him to the audience. Jay has two adult children: Claire Dunphy (Julie Bowen), married to Phil Dunphy (Ty Burrell) and Mitchell Pritchett (Jesse Ferguson), living with his gay partner, Cameron (Eric Stonestreet). Claire and Phil have a conventional marriage, and have three children. Cameron and Mitchell have adopted a Vietnamese baby girl and are learning to parent together.
What makes this family story work so well is the fine acting and the great dialogue. Sofia Vergara is wonderful as the sexy, hot-tempered wife of the wealthy and staid Jay Pritchett. His dowdiness is countered with Gloria's skin-tight pants and plunging necklines; Jay's steadfast demeanor contrasts to Gloria's emotional outbursts. We empathize with her sense of otherness while laughing at her antics.
Another source of comedy is provided by the character of Phil Dunphy. A realtor, Phil has never won the respect of his successful father-in-law. Moreover, Phil's desire to be liked makes him very human, and he entertains all alike with his boyish ideas and adventures.
Another star of the show is Cameron. Like Phil, Cameron is spontaneous and sensitive. He is the permissive parent, the clown, the emotive partner. His acting is superb. He is a great foil to Mitchell, and the attraction of these opposites is believable.
Taken as a whole, this is a laugh-out-loud program. Unlike other contemporary series, Modern Family highlights the issues inherent in adolescence, parenthood, love in all its forms, and then pokes fun at them. In a world in which we take ourselves ever so seriously, this series helps us look at life in all its glorious absurdity.
Enjoy it this New Year!
---