A somewhat light agenda this week, but not without its globetrotting, a few thrills, the perils of war and a classic dose of early 1970's alienation. All of that, and one of the world's great structures rising before our very eyes....
Okay, the journey might be a bit familiar this time, but we are still in very good company. Everyone (save the character who perished in first film) is back, as well as silver-haired Yanks David Straithairn and Richard Gere, the latter making the heart Madge Hardcastle (Celia Imrie) go pitter-patter. Dame Judy returns, so too the wonderful Bill Nighy. Even Penelope Wilton is back to haunt the happy emigres, hopefully with a less tragic hairdo and dialog than was the case in the first film.
Roman de gare
is actually a 2007 film from French veteran Claude Lelouch, finally making its way to DVD and international distribution. The radiant Fanny Ardant stars as a writer looking for ideas for her next thriller, getting much more material than she bargained for.
Part of the BBC's massive World War I centenary season,
The Crimson Field
delves into the lives of medical staff and patients at a fictional field hospital in France during the First World War.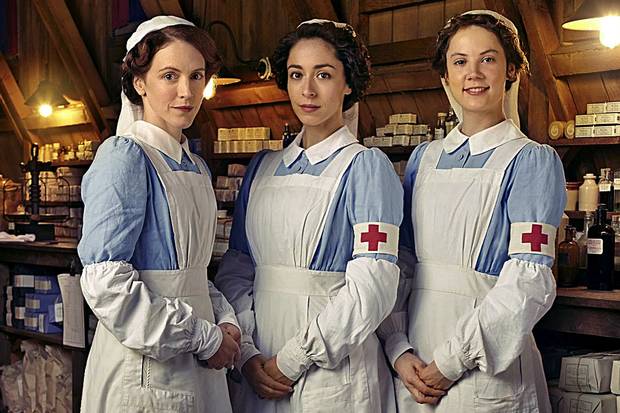 Director Bob Rafelson and the inimitable Jack Nicholson combined their talents for several films, never more successfully than with
Five Easy Pieces
. Nicholson plays Robert Eroica Dupea, estranged from his affluent, dysfunctional family and the world in general. Poor, good-hearted Karen Black tries to love the alienated Dupea. Best known for what may be the most tortured and humorous diner order in film history (should it really be so hard to order wheat toast?),
Five Easy Pieces
is a film of considerable feeling and substance at time rich with films (and audiences) unafraid to venture into uncomfortable ground. If you haven't seen
Five Easy Pieces
in years, or never had the pleasure, enjoy this new Criterion Collection edition.
Amazing as the experience might be of visiting Notre Dame, Chartres, the Hagia Sofia, or Angor Wat, you're obviously seeing great structures that have been completed and in place for centuries. Not so, with Sagradia Familia, the great Antonio Gaudi's "Expiatory Temple." It's being built as we speak. Gaudi saw only a small portion of the church completed before his death 1926. The Spanish Civil War and further upheaval delayed construction, which now takes place at a furious rate.
Sagrada Familia: The Mystery of Creation
offers some good background and striking visuals, more than compensating for occasionally tiresome and pretentious narration.
db
---